Testimonials
Pearson Engineering is proud to provide quality work & quality service to all customers. Below you will find a selection of testimonials from satisfied customers.

"Pearson Engineering & ARW Multigroup has had an ongoing association over the last 10 years with general steel fabrication, repair & site works. In that time Pearson Engineering has provided a professional service second to none. This includes assisting in providing, input in design, supply of shop drawings, right through to site installation, on both small & large projects.

Some of Pearson Engineering's fabrication work during the recent BER Scheme (new buildings for schools) was described by project supervisors as the best they had seen. Pearson Engineering regularly provides competitive quotes and delivers projects on time, with a minimum of fuss, defect free. Pearson's Engineering also provides adherence & compliance to ARW Multigroup's IMS (Internal Management System) comprising of OHS, Environmental & Quality elements.

ARW Multigroup would not hesitate in recommending Pearson Engineering for your next project."
David Anable
(Director - ARW Multigroup)
---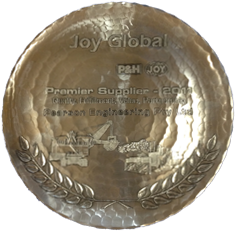 "Pearson Engineering has provided JOYGLOBAL with excellent customer service for many years. I have a close relationship with Pearson Engineering management on a day to day basis as well as other JOYGLOBAL staff. This ranges from Warehouse Staff to Engineering, Sales and other members of the Supply Department Team.
Joy Global has always found Pearson Engineering to be dependable, reliable, hard-working and honest. Without these qualities JOYGLOBAL could not achieve such a superior product for the Mining Industry, which is tailored to the needs of our organisation. Pearson Engineering continually shows good judgment and acts like a member of the JOYGLOBAL team.

Pearson Engineering use unconventional methods when necessary with their innovative thinking to solve practical issues which assist's JOYGLOBAL to achieve our end result.
We look forward to a long term relationship with Pearson Engineering in the future."

Rachael Anear
(Purchasing Officer - JOYGLOBAL)
---
"We have been dealing with Pearson Engineering for 7 years. The service is always prompt and the work is always completed quickly. Ben and his team have sorted some difficult repairs to our agricultural machinery and we haven't had a failure yet. They are team we can count on."
Peter Brooks
(Princess Pastoral Co)
---

"The Wagga Iron Foundry and many of our customers (on our recommendation) have used the machining and engineering services of Pearson's Engineering, Goulburn during the last 5 years. We have found Ben of Pearson's Engineering to be professional and businesslike in his dealings with the requirements of the Wagga Iron Foundry and its customers. He has the ability to be very versatile in the large variety of engineering requirements that have been required. Also having the ability of doing both large and short run jobs.
On visiting Pearson's Engineering I have been impressed with the quality of the equipment that is in use. The staff are all well trained and versatile in the range of engineering requirements put to them. All jobs Pearson's Engineering have done for The Wagga Iron Foundry have been delivered on time. Pricing has been competitive I would recommend Pearson's Engineering for any engineering requirements for all prospective clients."

Peter McClelland
(Manager - The Wagga Iron Foundry)